By rail
Whether from Basel, Zurich or Geneva, you travel to Interlaken-West. There you take the yellow bus No. 101 to "Beatenberg Wydi" bus stop where you get out. Then another 150 meters on foot, on the right side you will see our guesthouse.
By car
Take the highway A6 Bern/Spiez/Interlaken. Leave the highway at the motorway exit slip road Interlaken West. Follow the direction sign to Beatenberg. The distance from Interlaken to Beatenberg is about 10 km.
Our location is "Spirenwaldstrasse 356". Please note that most GPS devices suggest a more complicated route, so we recommend you enter "via Interlaken".
Parking facilities  
There are 40 free parking spaces available on our premises. Please use ONLY the marked parking areas according to the site plan. The parking spaces marked "private" are not available. Access to the buildings must be guaranteed for the fire brigade and rescue services. Therefore, please do not leave any vehicles in the driveway, the access to the buildings (main entrance, east entrance) or in front of the hostel in the upper area of the grounds.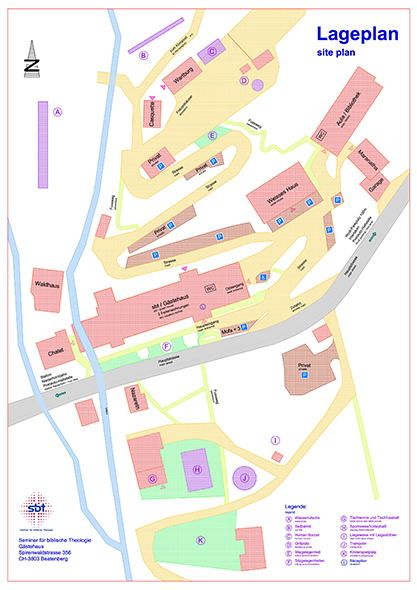 If the marked parking spaces are not sufficient, please use the parking facilities in the public car park Wydi, just a minute's walk from our guesthouse.